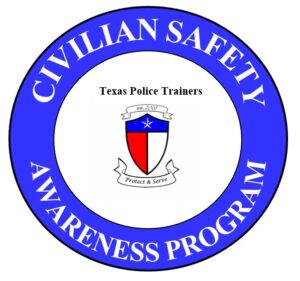 ---
Our Civilian Safety & Awareness Program focuses on the residents in the cities of Texas.  Our goal is to open up the lines of communication between the residents and the law enforcement community through our training while building police-community relationships and sharing resources.  We know that strong relationships of mutual trust between the residents and police agencies are vital to maintaining public safety.  Through our training program, we will be acknowledging and discussing challenges that our cities are facing, and introducing training to help keep our residents safe. 
Below is a list of training we are offering through our Civilian Safety & Awareness Program. To learn more about the training, click on the training link.  If your city is interested in hosting  any or all the the training listed below, please reach out to us at 512-766-0659 or via email at

texaspolicetrainers.com

.
---
Active Shooter Response Training for Residents- 2 hours
Civilian Interaction with Law Enforcement - 2 hours
Emotional Intelligence in Policing

(law enforcement only)

- 4 hours 
Female Intelligence Going-Against Hostile Tactics (F.I.G.H.T.) - 2 hours
Gun Safety Training for Parents and their Children - 2 hours
Home Alone - 2 hours
Homelessness - 2 hours
Interactive Police Training with Police and the African American Community (IPAAC) - 2 hours
Understanding and Interacting with Law Enforcement for the Deaf or Hard of Hearing Community - 2 hours
Workplace Violence - 2 hours
Your Rights to Self-Protection in Texas - 2 hours