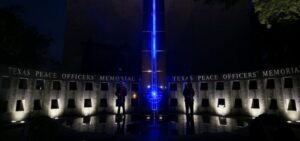 In Texas, law enforcement individuals put their lives on the line for the safety and protection of others every day. Most serve with unwavering commitment, professionalism, valor, and distinction. Sadly in 2022, Texas lost 33 law enforcement individuals in the Line of duty.  A total of 2,221 Texas law enforcement individuals and 27 K9s overall have been killed in the line of duty in the State of Texas.
We invite you to learn more about our law enforcement heroes and join the Texas Police Trainers in honoring and remembering them.  You can also click  www.odmp.org to find all the Texas fallen heroes. 
They put their lives on the line for us every day even at the risk of losing their own life.
 "Blessed are the peacemakers, for they will be called children of God." - Matthew 5-9
 "Greater love has no one than this, that someone lay down his life for his friends." - John 15:13
---
Poem by Jon F. Hooper
"When a police officer is killed, it's not an agency that loses an officer, it's an entire nation."

Chris Cosgriff, ODMP Founder